Why Does SLHS Have a Dress Code?
Yes. SLHS believes in a school culture that values a professional appearance from its faculty, staff, and students. Various wardrobe and color options are available to accommodate each student's individual preferences. See the Parent/Student Handbook for detailed instructions on dress code (click on the "Resources" tab to find the handbook). 
---
Letterman Jackets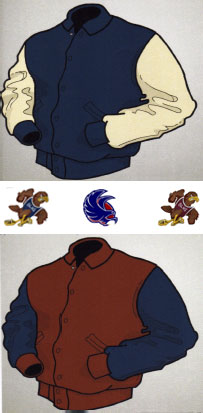 A Falcon letter jacket may be purchased and worn only AFTER an athlete has earned a varsity letter.
Varsity letters and other patches, pins, awards, etc earned while participating in SLHS athletics may ONLY be worn on an official letter jacket.
Only first or last names are allowed. Nicknames must be pre-approved by the administration. The school reserves the right to prohibit the wearing of jackets at school or school events if this rule is not followed.
Only approved letter jacket/sleeve color combinations are allowed to be worn:
Boys: Maroon body, navy blue or cream/off-white sleeves; OR Navy blue body, cream or off-white sleeves only
Girls: No hood: all boy's colors above; Hooded: Maroon or navy blue body, navy blue or cream/off-white hood; OR Letter Sweater
SLHS Letterman Ordering Information
---
Formal Wear Dress Code
Why do we have a formal wear dress code?
We are not trying to inhibit your style – prom and other dances should be fun, but we want everyone to be comfortable and safe too.
Students are highly encouraged to bring a picture of himself/herself in their chosen outfit for review by the administration if they are not sure if the outfit is appropriate, or if they are more comfortable with prior approval.
Please see the slides below for some examples:
If you don't have a PDF plugin for your browser. You can click here to download the PDF file.